『Thirty-six Views of Fuji Miho no Matsubara in Suruga Province』Owend by Kunozan Toshogu Museum
Sample Shizuoka's rich culture, local delicacies and charming landscapes—
all whilst stretching your legs with romantic bike tours around the city.
With leisurely exercise in the open air, a cycling trip is the best way to enjoy the scenery
and Japanese culture of the Shimizu Port area.
Explore Shimizu Port:
1-Day Cycling Courses

Shimizu Port is known as one of Japan's three most beautiful ports and is renowned for its unparalleled views of the World Cultural Heritage Site, Mt. Fuji. Resting along Suruga Bay in Shizuoka—where the weather is mild throughout the year and the area is blessed with a number of famous scenic spots—Shimizu Port is a favorite destination for both domestic and international tourists.
One of the best ways to see the area's wonders and enjoy the surrounding scenery and culture is via the Pacific Cycling Road—one of Japan's most popular cycling routes!
This website introduces one-day cycling routes in three diverse areas around Shimizu Port. Lace up your biking shoes and start planning your next trip!
The Setting of the legend of Hagoromo Miho no Matsubara
Miho no Matsubara—where the legend of Hagoromo is said to have taken place—is a popular destination throughout the year. Declared a part of Mt. Fuji's World Cultural Heritage Site in 2013, Miho no Matsubara is characterized by its lush pine tree forest, sandy beaches, and iconic view of Mt. Fuji.

Miho area
Miho Shrine

A visit to the scenic destination of Miho no Matsubara would be incomplete without stopping by Miho Shrine. Located at the end of Kami no Michi—a wooden, pine-tree lined path—Miho Shrine is a simple, yet reverent spot related to the legend of Hagoromo and houses a piece of the celestial hagoromo (feathered kimono) from the story. The shrine is also dedicated to a god of marriage and regarded as a power spot. After passing under the torii, follow a stone path through the foliage-encircled grounds and stop by the main hall to pray.

Kami no Michi

Kami no Michi, which roughly translates to "God's Way," is a 500-meter long wooden boardwalk that connects Miho no Matsubara to Miho Shrine. This revered path is flanked with dozens of 200- to 400-year old pine trees and is the perfect place to clear your mind as you travel to and from the shrine. At night, Kami no Michi is illuminated—transforming the already tranquil scene into a mystical one.

Miho no Matsubara

Known across Japan for its mesmerizing views of Mount Fuji, Miho no Matsubara is an approximately 5-km long coastline on the Miho Peninsula that is home to over 30,000 ancient pine trees. This magical spot was selected as Japan's first Site of Scenic Beauty and designated as part of Mount Fuji's UNESCO World Cultural Heritage Site. The composition of the swaying tide, sandy shore, verdant pine trees, and iconic snow-blanketed peak makes for an alluring sight that has stolen the breath of many for generations—including Ukiyo-e master Utagawa Hiroshige. Aside from the picturesque scenery, the area is also famous for its association with the legend of Hagoromo.

In the legend of Hagoromo, a celestial nymph visits Earth and places her hagoromo, or feathered kimono, on a tree branch so she can bathe in the sea. While the celestial maiden is distracted, a passing fisherman finds her robe. The maiden demands that the fisherman return her hagoromo, and he agrees on the condition that she performs a celestial dance. The nymph stresses that she cannot dance without her robe, and the fisherman hesitantly returns it. As promised, the maiden performs a graceful dance as she ascends through the sky. Today, you can visit the pine tree—called Hagoromo no Matsu—where the celestial nymph hung her hagoromo. This over 300-year old tree is located near the center of the grove and is the third iteration of the original pine.

Miho Shirube, Miho no Matsubara Culture & Creativity Center

Located on the western side of Kami no Michi, Miho Shirube, also called Shizuoka City Miho no Matsubara Culture & Creativity Center, is an educational facility that aims to teach visitors about the ecosystem, history, culture, art, and preservation of Miho no Matsubara. Explore exhibits related to the area's geographical features, Mount Fuji worship, the legend of Hagoromo, artwork, and preservation activities. The facility is also home to a terrace, foot bath, museum shop, and rooftop views of Mount Fuji on clear days. Before heading to Miho no Matsubara, Miho Shirube is an excellent place to visit to gain a deeper understanding of the area.

If you are looking for a place to grab a quick souvenir, stop by Omiyagedokoro Ichimaru—about a one-minute walk away from Miho Shirube. With a picture of Mount Fuji gracing its facade, the store sells souvenirs, refreshments, ice cream, mochi, and Shizuoka soul food, such as kuro hanpen oden, a special type of fish cake stew. The surrounding area also features two other souvenir shops and a cafe.
Cycling Plan
This 16-km cycling route is perfect for lovers of Mt. Fuji's culture and legend. Explore the expansive pine tree-lined road Kami no michi, the reverential Miho Shrine, and spectacular coastal views, and fully immerse yourself in Miho's spiritual, calm atmosphere.
Journey through Shizuoka's Breathtaking Panoramic Vantage Spots Mount Fuji, Suruga Bay, and more
Kunozan Toshogu Shrine is dedicated to Tokugawa Ieyasu, the first shogun, or military leader, of the Tokugawa Shogunate (1603-1867). Located at the top of Kuno hill and connected to the scenic plateau of Nihondaira by a ropeway, the 400-year old shrine, its accompanying seascape, and nearby attractions are must-visits when you come to Shizuoka.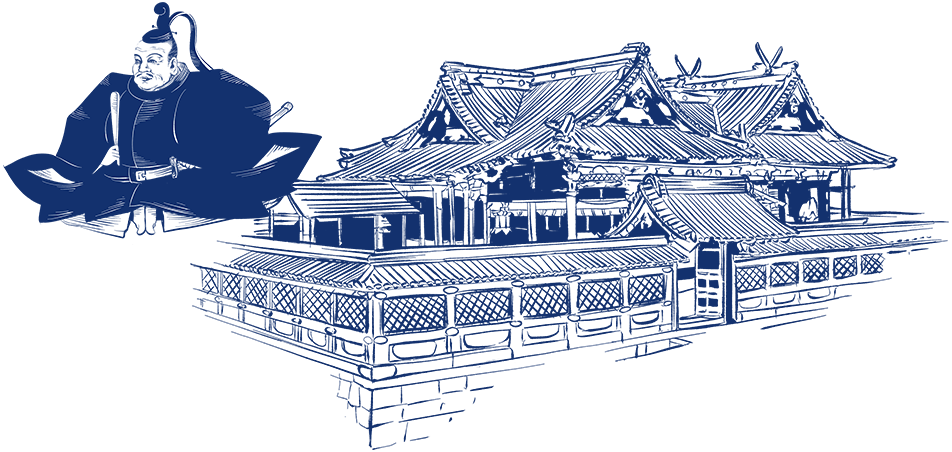 Kuno area
Tsuneyoshi Ichigoen

Tsuneyoshi Ichigoen, located at the foot of Mt. Kuno, is a farm that grows Ishigaki Strawberries—a local variety of strawberries cultivated using a unique technique that originated in the area over 100 years ago. This method relies on radiant heat from stone walls, resulting in sweet strawberries, and gained popularity since the use of greenhouses was less common in the past. Today, visitors can go strawberry picking from January to mid-June! The farm sells freshly picked strawberries and strawberry jam. Hand pick the ruby fruits, and enjoy their addicting flavor for yourself!

Kunozan Toshogu museum

Kunozan Toshogu Museum is a facility attached to Kunozan Toshogu Shrine that preserves and exhibits the shrine's treasures. The museum is home to over 2,000 artifacts, including Ieyasu's favorite items, swords, armor, personal accessories, paintings, writings, and historical documents. The museum rotates the items throughout the year, making no two visits the same.

Kunozan Toshogu Shrine

Kunozan Toshogu is an over 400-year old shrine that enshrines Tokugawa Ieyasu, the founder of the Tokugawa Shogunate—a military government that brought peace to Japan for 265 years. The impressive shrine was constructed by a master carpenter and became a model for Toshogu shrines across Japan, including the famous Nikko Toshogu Shrine. In 2010, Kunozan Toshogu was designated as a National Treasure. The shrine is home to numerous intricately designed structures, such as the Roumon Gate, Koro (drum tower), Shaden (main shrine building), and the mausoleum of Tokugawa Ieyasu, and features brilliant vermilion hues decorated with green, blue, and gold detailing. To learn more about the shrine, you can rent audio guides that are available in English and Japanese.

Nihondaira ropeway, Nihondaira Yume Terrace Garden, & Nihondaira Park East Observatory

Located near Kunozan Toshogu's entrance is Kunozan Station, the starting point of Nihondaira Ropeway.This ropeway transports visitors from the shrine to Nihondaira's scenic summit in about five minutes and offers elevated views of Suruga Bay. Near the Kunozan Station's entrance is a nice shop where you can refuel with amazake (a sweet fermented rice drink), steamed meat buns, and miso konjac, as well as pick up souvenirs. 

Nihondaira is a scenic plateau famous for its stunning panoramas, and one of its prime viewing spots is Nihondaira Yume Terrace. This octagon-shaped facility features displays about Nihondaira's history on the first floor, a lounge area on the second floor, and an open-air observation deck on the third floor with 360° views of Mount Fuji, Suruga Bay, Miho no Matsubara, and more. For additional views of the scenery, you can also stop by the Nihondaira Park East Observatory, which is about a 10-minute walk from Nihondaira Yume Terrace.
Cycling Plan
Challenge yourself to this 16.5-km cycling route —including a total of 2,398 steps to and from Kunozan Toshogu Shrine— and dive into the history of Tokugawa Ieyasu, eat your fill of local strawberries, and relax on a ropeway to a beautiful observatory.
A Crossroads of Time Local Delicacies, Flourishing Landscapes and Masterful
Okitsu area featurs streets lined with numerous Japanese suburban and traditional homes, creating a leisurely atmosphere for visitors. Interspersed throughout these nostalgic streets are key landmarks, such as Seiken-ji Temple and confectionary shops serving Japanese sweets and tea, making visitors feel like they are immersed in the crossroads of the past and present.

Okitsu area
Miyasama Manju Honpo Shioya

For a taste of old Japan, grab a sweet treat at Shioya. This Japanese confectionery has been crafting sweets since 1890 and is renowned for its manju—a traditional confection made from flour, rice powder, or buckwheat and filled with anko, or sweet red bean paste. Shioya's handcrafted manju are characterized by their small size and subtle sake aroma. The soft outer layer pairs perfectly with the anko's thick consistency and earthy flavors, making for an addicting bite and tasty souvenir to share with friends and family.

Seiken-ji Temple Garden

Founded in the late seventh century, Seiken-ji, also called Kiyomi-ji, is one of the oldest Buddhist temples in Shizuoka and was built beside a checkpoint, called "Kiyomi-seki," on the Tokaido Road—an ancient road that connected Kyoto to Edo (present day Tokyo). The temple later gained recognition as the place where Ieyasu Tokugawa studied during his childhood. The Seiken-ji Temple Garden, designated as a National Place of Scenic Beauty, is said to have been created during the early Edo period at the behest of Ieyasu—who would later become shogun. The ancient Japanese landscape of skillfully arranged ponds, azaleas, and stone arrangements creates a peaceful space perfect for contemplation.

Okitsu Zagyo-so Museum

Constructed in 1919 on the Tokaido Road, Okitsu Zagyo-so is the former home of Saionji Kinmochi, the prime minister of Japan from 1906–1908 and 1911–1912. The original home was moved to the Museum Meiji Mura in Aichi Prefecture and is recognized as a National Important Cultural Property. Today, the Okitsu Zagyo-so Museum is a faithful recreation of this home and showcases remarkable Japanese craftsmanship. The two-story house is filled with Japanese cedar and bamboo and transports visitors to the past with its tatami floors, shoji windows, traditional atmosphere, and Western-Japanese fusion elements. Okitsu Zagyo-so Museum is a must-visit for fans of architecture and history.

Oshokuji-dokoro Okaya

Oshokuji-dokoro Okaya is a traditional restaurant that serves meals crafted with fresh, local, and seasonal ingredients. Relax in an old-fashioned room and enjoy multi-course lunch sets featuring seafood, mountain vegetables, and more. The meals are not only filled with diverse flavors, but also presented beautifully in an array of colorful dishes. In addition to dining, the restaurant also offers takeaway.

Chaluck

For a refreshing taste of Shizuoka's renowned tea, stop by Chaluck. This pleasant cafe offers in-store seating, as well as a small shopping area where you can buy bagged teas and other tea-related items. In the cafe area, enjoy a delicious, seasonal menu of matcha zenzai (sweet red bean soup topped matcha ice cream), anmitsu (a combination of agar jelly, fresh fruit, and sweet red bean paste), matcha cheesecake, beautifully crafted wagashi (traditional Japanese confections), and more. One of the cafe's most popular items is its parfait, which is filled with matcha ice cream, homemade red bean paste, mochi, and fruit. Aside from these sweet menu items, the restaurant also sells limited savory dishes, including ramen and udon. Of course, be sure to pair your meal with a cup of speciality green tea. As a souvenir, pick up some matcha ice cream, matcha pound cake, and one of the shop's popular fruit teas.
Cycling Plan
The 13-km course allows cyclists to leisurely explore some of Okitsu's most sublime gardens and architecture, while enjoying a luxurious taste of local delicacies and dishes made from seasonal ingredients.
Fish-market(Port area)
Shimizu Sushi Yokocho(Fish Market)

Shimizu Sushi Yokocho is a must-visit for sushi lovers. Located in the S-Pulse Dream Plaza shopping center, Shimizu Sushi Yokocho is an indoor alleyway lined with seven different sushi restaurants that offer conveyor belt sushi, rice bowls, sashimi, Edo-style sushi, and more with fresh, local fish. The alleyway is open from 11:00am to 8:00pm. The informative part of the museum, called Sushi Gakudo, is located on the second floor of the facility and requires an admission fee. Here, you can peruse exhibits and learn about the history and culture of sushi.

Kashi no Ichi Ichibakan(Fish Market)

Enjoy a lively atmosphere with fresh, local seafood at Shimizu Fish Market, Kashi no Ichi in Japanese. This fish market, located directly on the waters of Shimizu Port, is home to a collection of wholesalers where visitors can shop for fresh seafood, processed seafood products, vegetables, fruit, tea, and other goods for affordable prices! Aside from wholesalers, the market is also filled with restaurants that sell mouthwatering seafood cuisine. Shimizu Fish Market is divided into two sections—Ichibakan, which sells a variety of seafood, and Maguro-kan, which specializes in tuna. Explore both for an enriching local market experience.

Shimizu Port Shipyard Memorial Hall "Suehiro"

1

2

Shimizu has long served as an important port in Japan. The Shimizu Port Shipyard Memorial Hall, "Suehiro," is a great place to learn about the town's intriguing history. One of the key players in Shimizu's growth was Jirocho—the adopted son of a rice merchant. Although Jirocho was involved in gangs in his youth, he later developed into an influential figure who encouraged international trade, town growth, education, and more in Shimizu. Later in his life, Jirocho opened the sailor's lodge Suehiro. Today, you can visit a reconstructed version of this historic building and gain insight into Jirocho's life and his strong connection to Shimizu's community development.